Współpracuję z RE/MAX Duo 8 lat
"Obszar mojego działanie obejmuje głównie tereny od Zakopanego do Nowego Targu. Na co dzień zajmuję się pośrednictwem w sprzedaży nieruchomości gruntowych, mieszkalnych oraz inwestycyjnych.
RE/MAX Duo jest gwarancją najwyższego poziomu w sprzedaży nieruchomości. Długoletni sprawdzony system wdrożony do codziennego życia, daje nową jakość i pozwala agentowi osiągnąć najlepsze wyniki na lokalnym rynku. Wytrwałość, systematyczność i praca to podstawy sukcesu.
Jako absolwent Politechniki Krakowskiej, Wydziału Inżynierii Lądowej na kierunku Budownictwo posiadam wiedzę, która pozwala mi swobodnie poruszać się w temacie nieruchomości. Nieustanna wola samokształcenia i podnoszenia swoich umiejętności zawodowych gwarantuje, że sprzedaż Twojej nieruchomości będzie prowadzona profesjonalnie".
Jestem Leaderem Teamu NICE współpracuję z agentem Maciejem Kopciem.
Tworzymy wspólnie zgrany, doświadczony i profesjonalny zespół.
TEAM NICE
LEADER JAKUB ZAGÓRSKI MEMBER MACIEJ KOPEĆ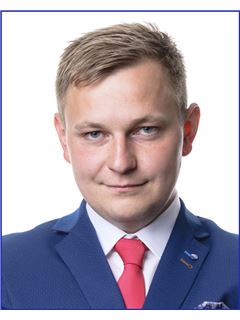 Zająłem 4 miejsce wśród agentów RE/MAX Polska w 2018 roku
Jestem członekiem Międzynarodowych Klubów:
EXECUTIVE CLUB
100% CLUB
Posiadam certyfikat:
Succeed
Sales Power
Pewność siebie. Pewność pozwala ludziom w nas wierzyć, mamy poczucie, że dla naszych klientów, jesteśmy zawsze we właściwym miejscu i czasie.
Kreatywność w rozwiązywaniu problemów i niesztampowe wykonywanie swoich obowiązków, to moja dewiza. Umiejętność wyobrażenia sobie konsekwencji - zarówno pozytywnych, jak i negatywnych - wszelkich działań, to podstawa w tej branży.
Wydawać by się mogło, że z sukcesem ma to niewiele wspólnego, a jednak! Ludzie, którzy osiągają sukces są -po prostu- lubiani.
Pogodne nastawienie sprawia, że osoby z naszego otoczenia darzą nas sympatią i pracują z nami z dużą przyjemnością.
Cenię sobie współpracę z ludźmi, kontakty i dobre relacje z klientami.
Praca pozwala mi się realizować zawodowo i prywatnie.
Zawodowo jak widać wyniki.
Prywatnie mam czas na odpoczynek, urlop i spełnianie swoich zainteresowań.
Tak organizuje pracę, że zawsze znajdę czas dla Ciebie!!!
Zaprasza do współpracy.
tel.: +48 605 306 325